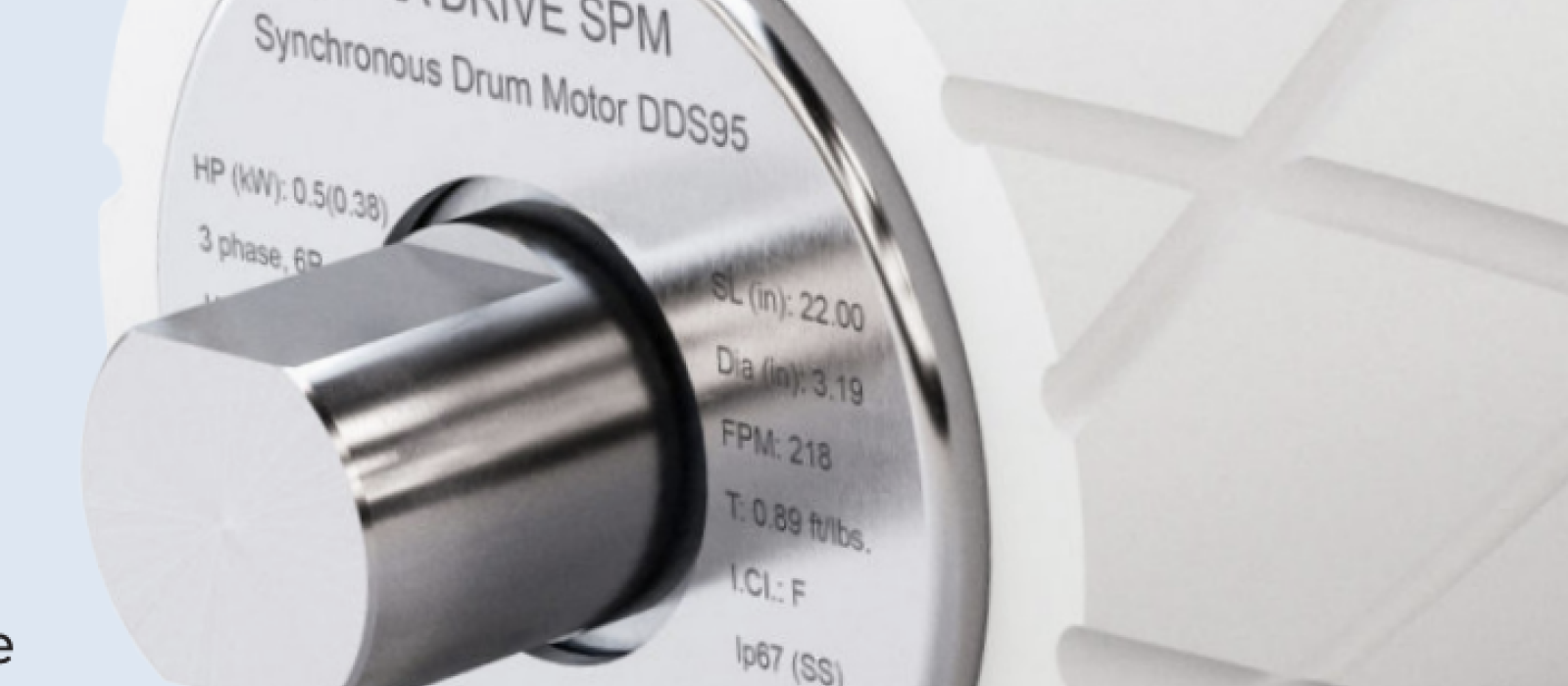 The All New Dura-Drive SPM 5.38" Synchronous Permanent Magnet Pulley
Sparks Belting recently launched the synchronous permanent magnet pulley in a larger size, the Dura-Drive SPM is now available in a 5.38" diameter. It is a compact and robust All-in-One drive component that can be used with all types of belt conveyor systems, including plastic modular belt systems. The Dura-Drive SPM is highly energy efficient, exceeding IE4 efficiency limits, and is designed to meet IE5 requirements. The Dura-Drive SPM delivers high torque and belt pull that remains constant over a wide range of operating speeds.
New aspects of the SPM 5.38" pulley include the reliability and performance of past SPM pulleys with a few new advantages. These changes include increased horsepower, torque, and belt pull as well as larger sizes to accommodate larger applications that may require a larger minimum pulley size. With this new pulley, we guarantee that all applications will meet brand standards in order to keep your products moving.

The permanent magnet design is the key to the high efficiency and high power density of the Sparks Dura-Drive SPM motorized pulleys. --- SPM motors are now available in a 5.38" diameter and can be run either sensor-less in speed control mode or with feedback in combination with a servo drive in position, speed or torque control (sensor-less position control is also possible with some servo drives). The Dura-Drive SPM motors are aimed at applications in logistics with high dynamic requirements or as replacements for servo motors in machine building and general automation. They can also be used as a space-saving alternative to a gear motor.
Dura-Drive SPM pulleys run OIL-FREE with no possibility of oil leaks. This solves one of the main problems of motorized pulleys, especially in food applications. They have a simple, one-piece design with all moving parts enclosed in the pulley shell.
---
All Blog Posts