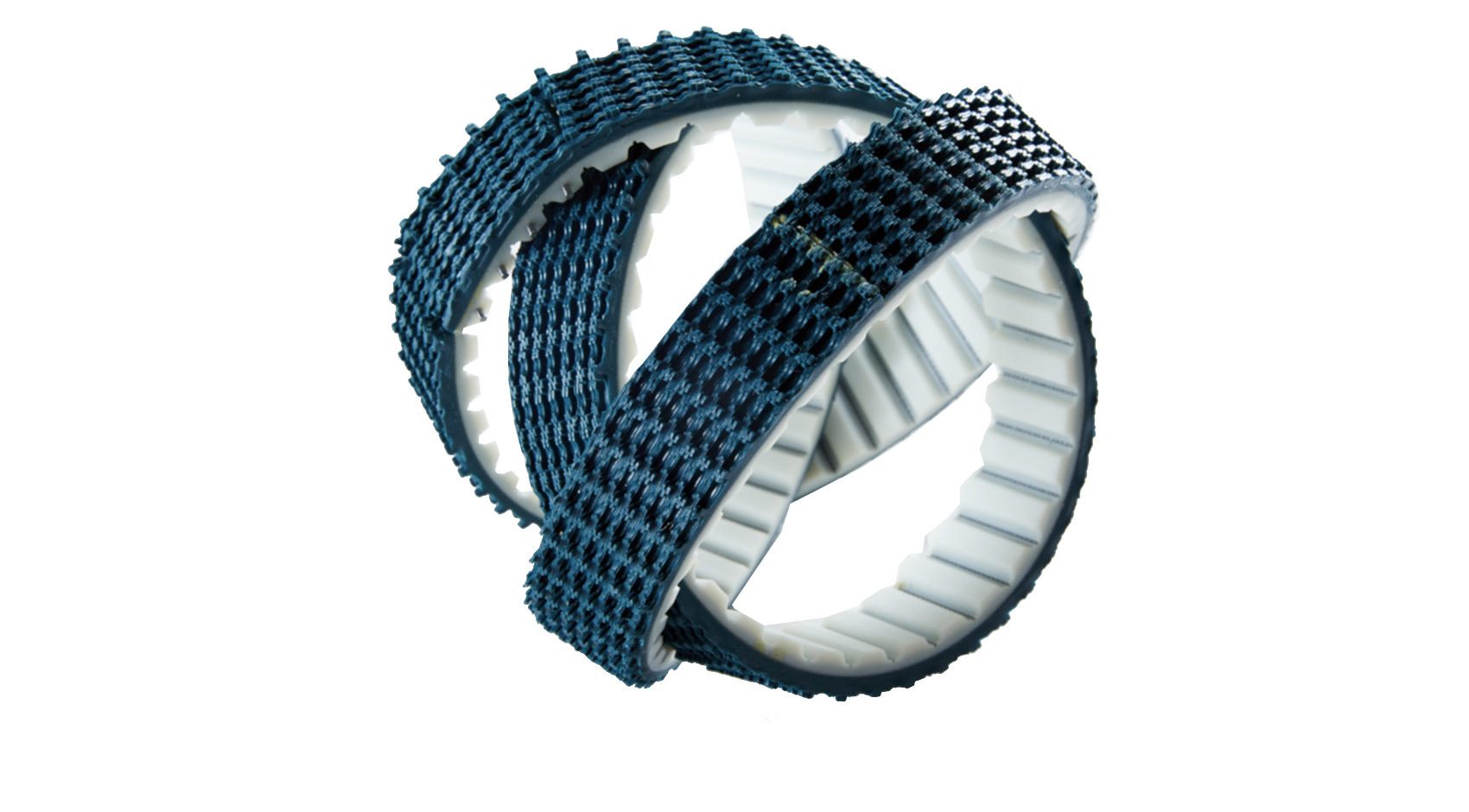 Dura●Tech Timing Belts
Sparks Dura-Tech urethane timing belts are designed for linear motion, conveying, and power transmission applications. The combination of a wear-resistant polyurethane body, reinforced with steel or Kevlar® tension members makes Dura-Tech belts ideal for the most severe requirements in all industrial applications.
Dura●Tech urethane timing belt material features.
Dura-Tech urethane timing belts are made from thermoplastic polyurethane that offers excellent abrasion resistance, impervious to oils, greases, acids and chemicals.
Broad temperature operating range (14 – 176 degrees F)
Low noise, non-marking and clean operating
Withstands wet and outdoor environments, and requires no maintenance
Standard color is white with special colors available, including transparent and black
Special compounds are available to meet FDA requirements, provide anti-static properties, or high and low temperature requirements
Steel tension cords come standard on Dura-Tech timing belts requiring low pre-tension and preventing elongation under normal operation for the life of the belt. Reinforcement options include:
High Flexibility Steel: greater resistance to flex fatigue
High Performance Steel: greater strength suitable for higher loads
Extra High Performance Steel: designed for lifting applications
Stainless Steel: recommended for wet applications
Kevlar®: reduces belt weight, increases flexibility, non-magnetic and non-corrosive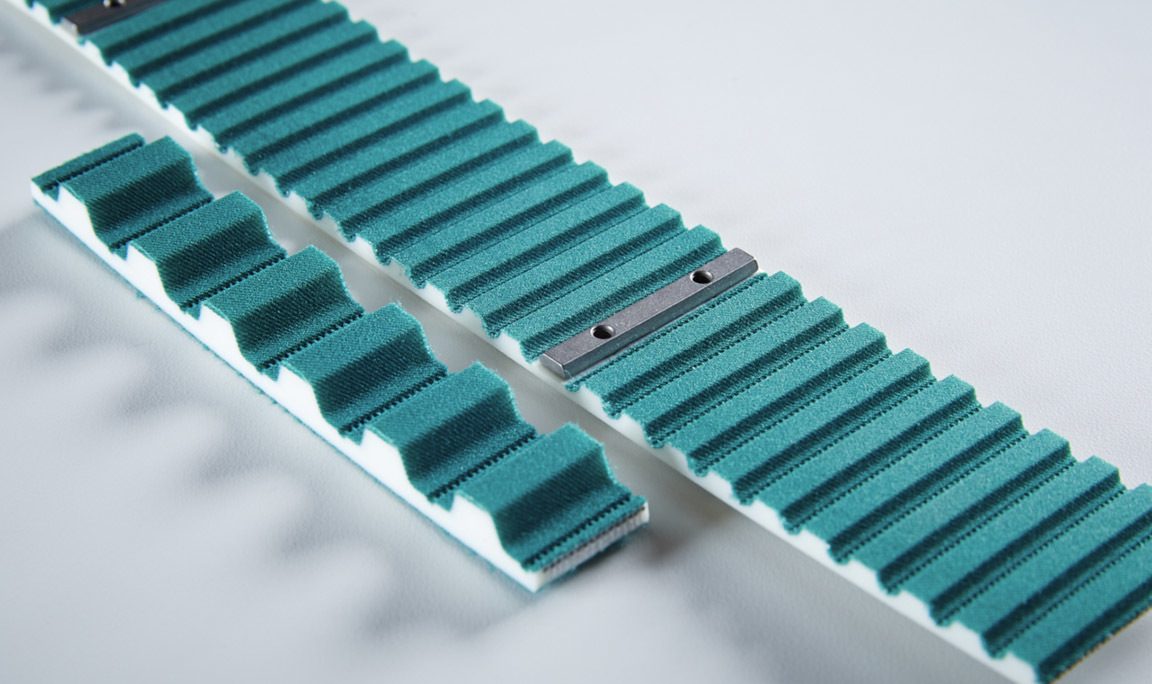 Double Sided Teeth and Perforation
Available with double-sided teeth in most styles and pitches for applications that require power transmission on both sides.
Timing Belts can be perforated for vacuum applications and ground on the tooth or smooth side to accommodate special applications.
Nylon Fabric
Tooth side (PAZ) application reduces the coefficient of friction in slider bed applications, improves tooth engagement and reduces noise on high-speed drives
Smooth side (PAR) application reduces the coefficient of friction on accumulation applications
Cleats
Welded or mechanically fastened (embedded steel tooth with threaded securing holes extending through the belt)
Mounting tooth can be full width or embedded in the existing tooth for quieter operation
Backings
PVC supergrip Rough Top, blue or green
PVC, 40 durometer Shore A, 2mm thick, blue or white (FDA)
Linatex, 1/16" to 3/8" thick
Synthetic and natural rubbers
Polyurethane, 70 and 85 durometer Shore A, 2mm to 10mm thick, clear
Polyurethane 55 durometer Shore A, 2mm to 10mm, yellow
Polyurethane fishbone pattern, clear
Polyurethane foam
---
Dura●Tech Pulleys
Dura-Tech pulleys are available for all Dura-Tech timing belts. Our aluminum pulleys are lightweight and come standard on all DTT and DTA series belts. Steel pulleys - with pilot bores, or bored and keyed to your specifications- and cast iron pulleys- bored to suit taper bushings- meet the rigors of tough power transmission applications and come standard on all DTI, DTH, and DTS series belts. We offer a broad range of teeth options starting at 10 teeth in the smaller pitches. All Dura-Tech pulleys are made to match any belt width.
Product Range
---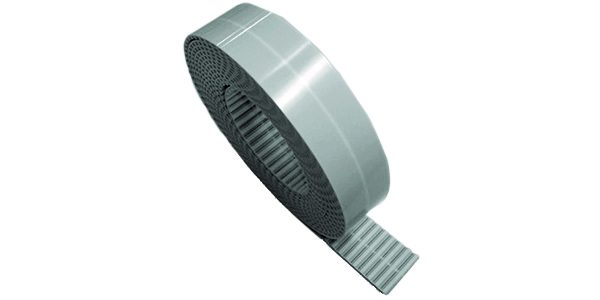 Open End Timing Belts
Produced in standard roll lengths of 100 meters and can be supplied to any desired length. The excellent precision, dimensional stability, and high abrasion resistance make them ideal in all linear motion applications.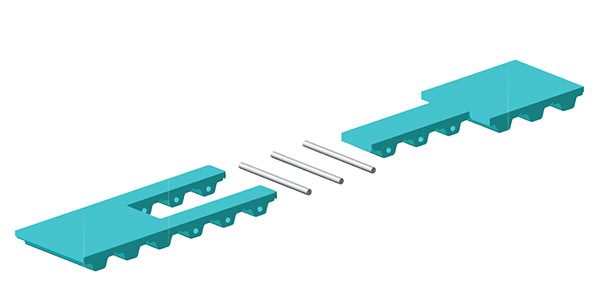 Mechanical Spliced Timing Belts
A square finger joint utilizes connecting pins allowing for simple field splicing where an endless splice is impractical. Mechanical splices are suitable for most conveying applications.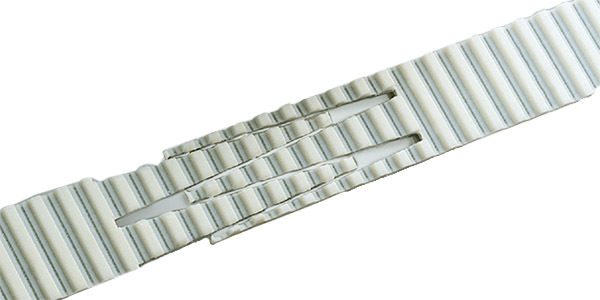 V-Spliced Timing Belts
Produced from open end belts, v-splices can be produced to any length starting with a minimum length of 800mm at full tooth increments. V-spliced belts are ideal for all conveying applications where synchronization is required.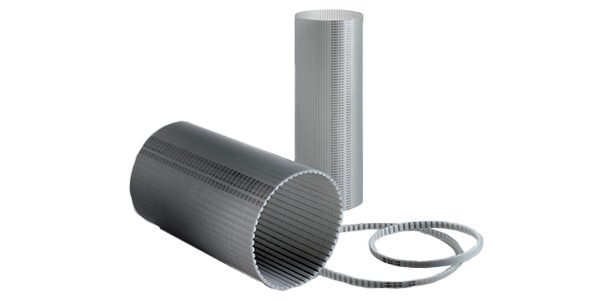 Truly Endless Timing Belts
Manufactured with endless tension cords with no splice or welding. Truly endless timing belts are ideal for power transmission applications and high load conveying applications. Available in lengths from 900mm to 22,000mm in DTT, DTA, DTI and DTH series. Short belts can also be produced from molded sleeves and are available in DTT and DTA series.
Find out if the Sparks Dura●Tech timing belt is the right fit for your application.
Contact Us