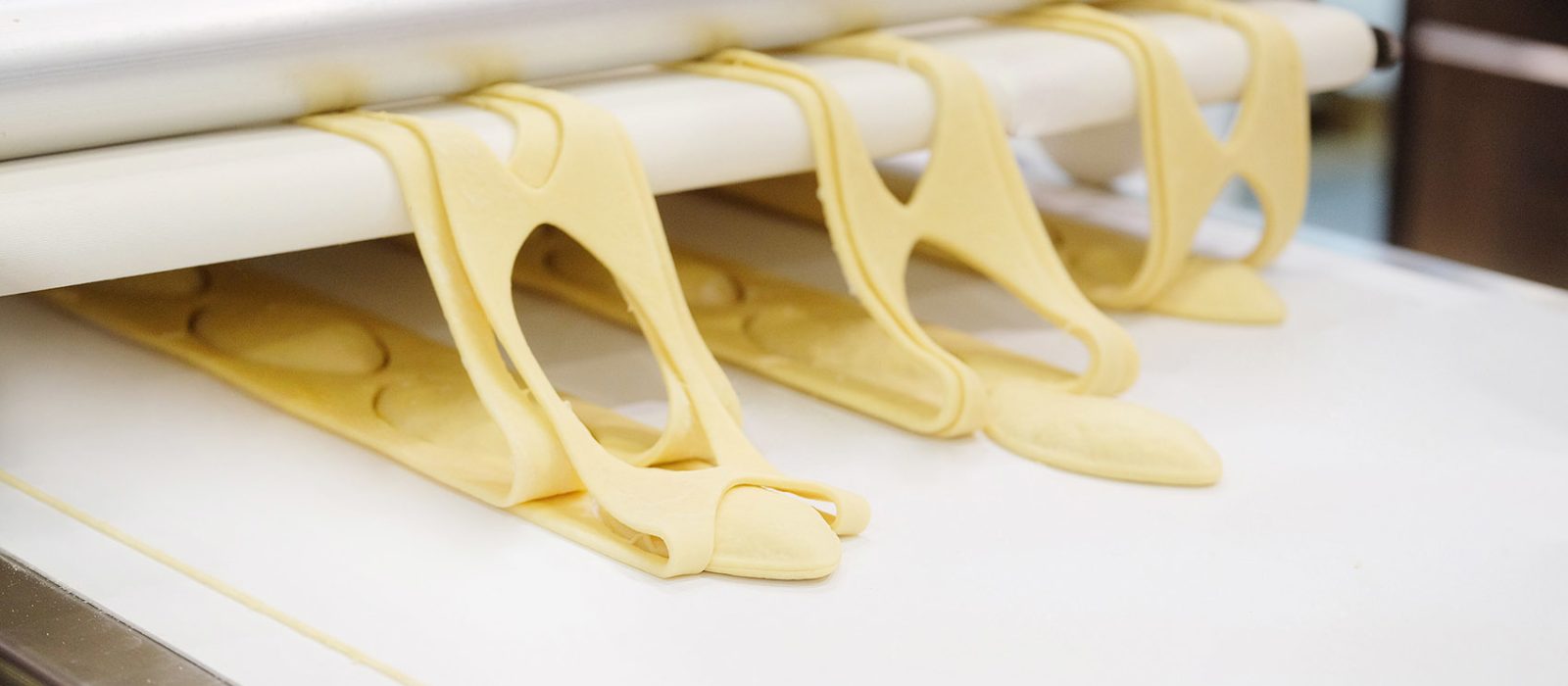 Conveyor Belts
Case Study: Cutting Maintenance Costs in a Baking Company with a Custom V-Guide Solution
A baking company in Illinois was having tracking issues when their v-guides would separate from the belt before the life of the belt ended. Sparks worked to provide a custom solution to solve this issue.
The Company
This baking company located in Illinois has been family owned and operated for over 50 years. They produce Italian/European style breads, buns, and rolls at four production facilities. The company operates multiple lines that use a variety of conveyor belts with v-guides to produce their products.
The Challenge
During the production process, a dough mixer dumps the dough onto a wide dough hopper belt feeding it into the hopper. The oily dough is fed through the dough feeder and is then discharged onto the sheeting, stretching and forming conveyors. The dough moves down the line to the guillotine and through the degasser and molding belt. Due to smaller rollers, the bakery has always had problems with v-guides coming off the conveyor belts prior to the full life of the belt. This would result in tracking issues, the conveyor belts running off the side of the conveyors, and also required a premature belt change.
The Solution
Sparks recommended cast urethane 4 x 6 mm segmented v-guides to solve this problem. After several belts were put into service it was found that the guides would stay on the belt, but another issue became apparent- the individual lugs were transferring marks to the cover.
To solve this new problem, Sparks took the individual lugs and ground them in half to form smaller more flexible individual lugs. Once these smaller lugs were put into service, the problem had been resolved.
The Results/Outcome
The new v-guide option has resulted in the elimination of tracking issues as the guides no longer come off of the belt. Their maintenance costs have decreased and their belt life has improved by 3-4 months of use. This improvement in belt life and decreased maintenance time has resulted in significant cost saving for the baking company.
---
All Blog Posts