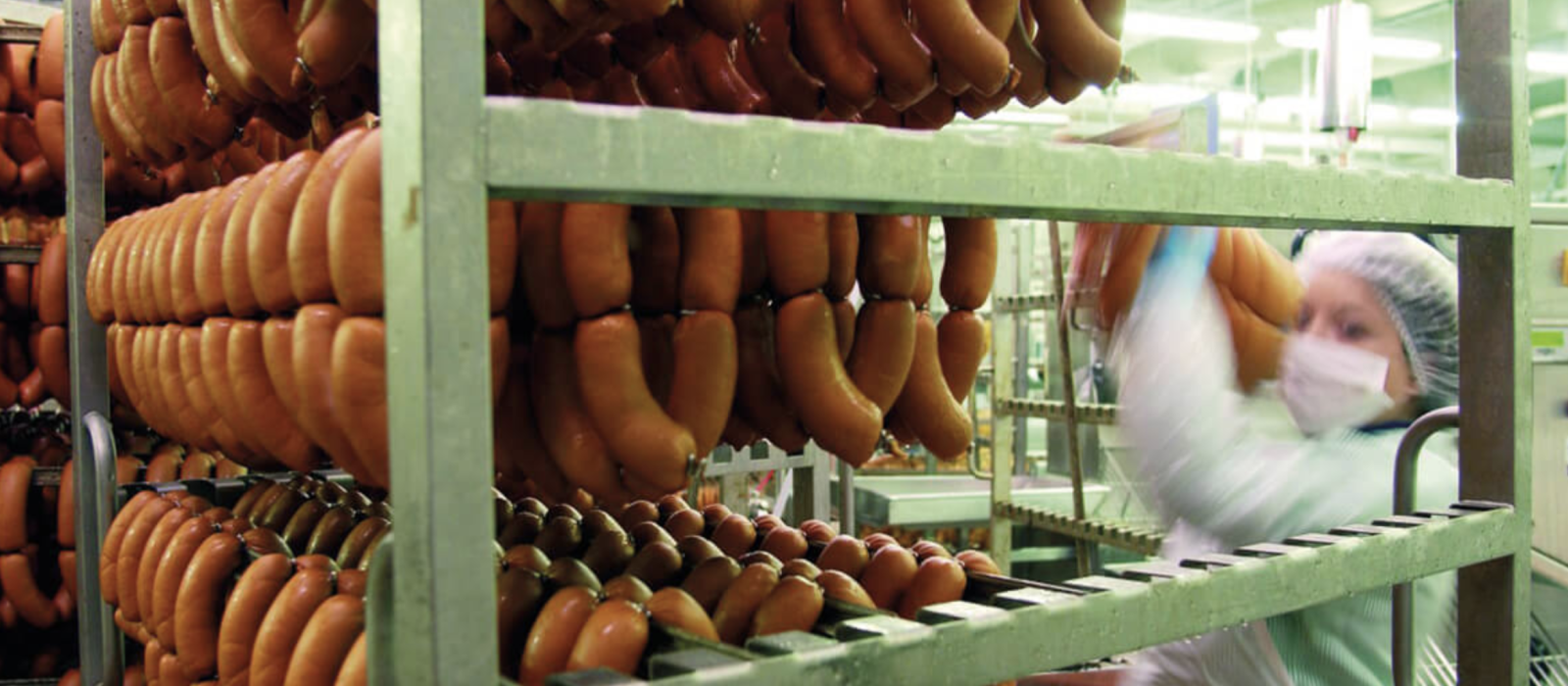 A large food manufacturing company has been using a newly installed conveyor belt for pig intestines at its processing facility. The new belt includes key features, specifically the new system is equipped with synchronous drum motors. Regardless of the repetitive daily pressure cleaning with hot water, the conveyor has been running consistently for more than a year without downtime or maintenance.
Sparks Belting assembles the momentum drum motor in the United States as the Dura Drive SPM motorized pulley for the North American market.
In the past, this food processing company has experienced significant problems with the conveyor, which consistently transports an average of 2,500 pig intestines a day for subsequent inspection by veterinarians.
Belt slip through aquaplaning
It is essential to production that the intestine conveyor is fully synchronized with the overhead pig carcass conveyor and the lower conveyor that transports the pig intestines. Synchronous operation is crucial so that veterinarians or specialized personnel are able to quickly match the pig carcass with the correct intestines and other organs during inspection. However, synchronicity could not always be ensured with the previously used intestine conveyor because it was always extremely wet from constant cleaning. This meant that sometimes – and especially during high production periods – the conveyor lacked friction, causing the belt to slip in an effect similar to aquaplaning. When this happened, the partitions of the intestine conveyor went out of sync with the overhead and lower conveyors, requiring manual intervention in what was designed to be a flowing process, which therefore needed optimization.
Motor wear through hot water pressure cleaning
However, this was not the only shortcoming of the previous intestine conveyor. Broken motor bearings also frequently caused problems, disrupting conveyor operation, and shortening belt life. As the belt could no longer be guaranteed to run smoothly under these circumstances, the motor had to be regularly removed to replace any broken bearings. In addition, there was also a risk of intolerable levels of lateral belt wear. Once or twice, excessive water ingress into the motor even caused the system to short circuit. Ultimately, there were at least two complete motor failures a year, requiring matching replacements. The trigger for this unacceptable level of motor maintenance caused by wear was the extremely high cleaning demand. However, compromise on this point was not an option, because the highest hygiene standards must be met, especially during evisceration. Under no circumstances should germs or other pathogens from rejected casings be allowed to contaminate the natural casings.
The solution: an IP69k-rated knurled drum motor
A solution needed to be created for the problem that had been eating into the budget and productivity of the company. The first step of the solution called for an increase of the IP protection class from the previous IP67 to IP69k. This was deemed necessary because the conveyor, operating in a cool ambient temperature of 53°F, is constantly washed down with hot water at 149°F. This was a logical design choice because it cannot really be said that the motor is only temporarily immersed in water as IP67 specifies. Instead, this application requires the highest protection against water penetration during high-pressure/steam jet cleaning (69) and protection against hot water (k).
Secondly, it was suggested to use a knurled drum to eliminate belt slip caused by the unavoidable amounts of water between belt and drum motor. The knurled surface now ensures stable friction and has solved the previous issues and disruptions from belt slip. Since the new belt design also features a corrugated sidewall, lateral belt wear is no longer a problem either.
All in all, the investment in the new intestine conveyor design paid for itself within a very short time. So far, costs were only incurred once, i.e. for the original purchase, as opposed to three investments to repair the previous motor, which broke down on average every six months. There was also no need for any interim motor maintenance to restore smooth operation by replacing the bearings, nor for tedious manual intervention to adapt the belt speed to guarantee conveyor synchronicity. To date, there is no end to this smooth operation in sight.
Rapid return on investment (ROI) and reduced maintenance costs
In addition to high IP protection, the synchronous drum motors created impress with their end-to-end robust design that clearly sets them apart from the competition. For example, the motors feature a standardized solid 30 mm axle which is far stronger than material-saving designs with 17 mm or 22 mm axles. The end-to-end robust drum motor design is evidence of the company's strong customer focus that aims to offer the highest quality drum motors with the best possible durability at prices that quickly pay for themselves. As a result, customers benefit not only from reduced maintenance costs and a fast return on investment (ROI), but also from the sustainability of the design – a factor that is gaining increasing importance in management decisions. The mean time between failures (MTBF) of the manufacturer's drum motors is twice that of competitors under normal loads, resulting in 50% less maintenance costs and nearly twice the ROI as the initial investment is not noticeably greater.
Easy integration into existing plants
However, there was initially a challenge with installation when it turned out that the converter used so far could not drive synchronous motors. Fortunately, this challenge – which had not been recognized at the beginning – was quickly resolved by purchasing a suitable frequency converter. Otherwise, it was possible to mount the new belt and drum motor on the existing conveyor chassis with little modification. Only the lateral profile angle had to be adapted because now a corrugated sidewall conveyor was used featuring 6 cm high partitions, whereas the previous belt had no corrugated sidewalls. No redesign was required on the motor side, a clear proof of the high compatibility between Momentum's synchronous drum motors and the asynchronous motors otherwise available on the market.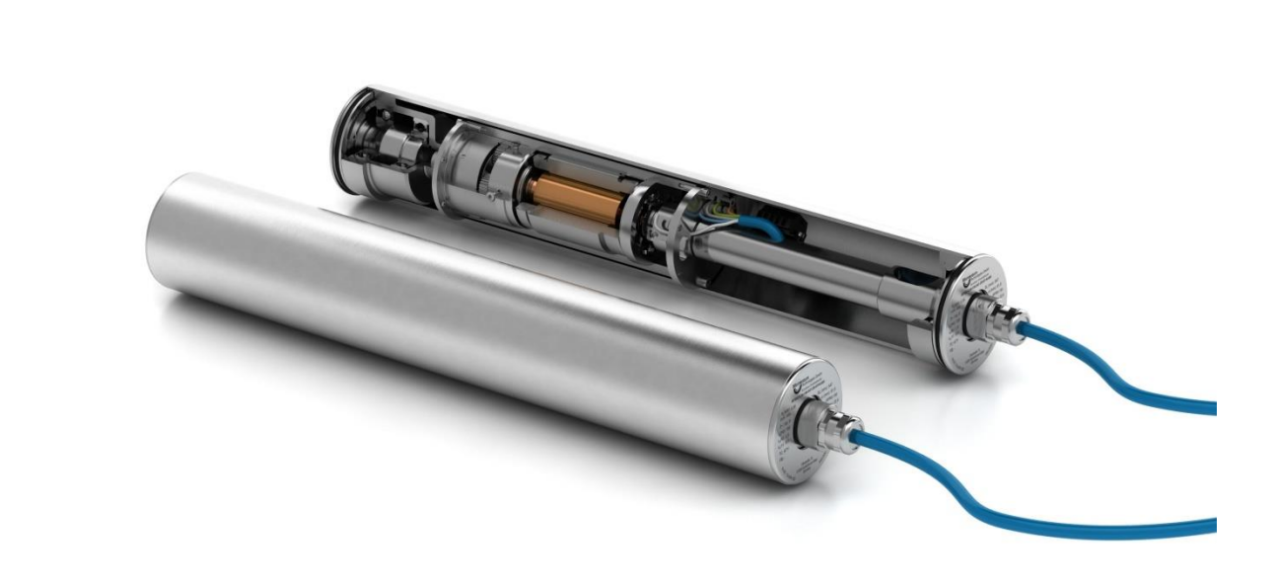 -Oil free motors are very popular in HACCP food production. The fully enclosed oilless drive enables high quality hygienic designs. All components, such as motor and gear, disapear in the roller that is mounted on the head of the conveyor. This is needed to deflect PVC or Modular plastic belting.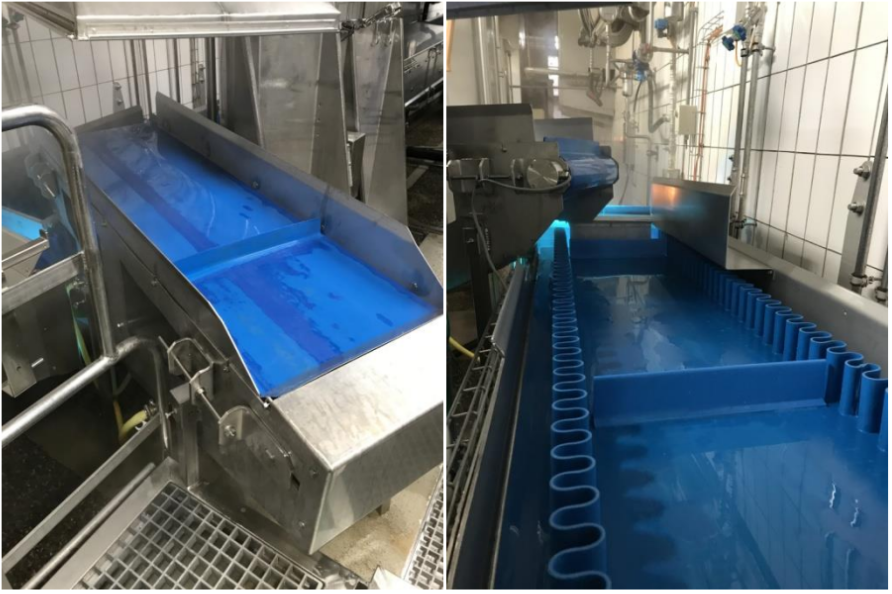 - The intestine conveyor is continuously washed down with a water jet throughout the entire operation, putting the drum motor under extreme stress.
About Sparks Belting Co.
Sparks Belting is an internationally recognized conveyor belt manufacturer, fabricator and distributor offering customized conveyor belting, modular plastic belting, urethane timing belts, and motorized pulleys. We have been earning trust with our customers by providing the best solutions to their conveying needs for over 70 years. With 10 facilities in the United States and 2 in Mexico, Sparks can take care of you regardless of size or location. Sparks is also the North American assembler and distributor of the Momentum synchronous drum motor.
Reader enquiries Sparks Belting:

Sparks Belting Co.
Grand Rapids, MI
Cal TenHarmsel
Technical Sales Mgr.
Tel. 616-481-2280
cltenharmsel@sparksbelting.com
---
All Blog Posts