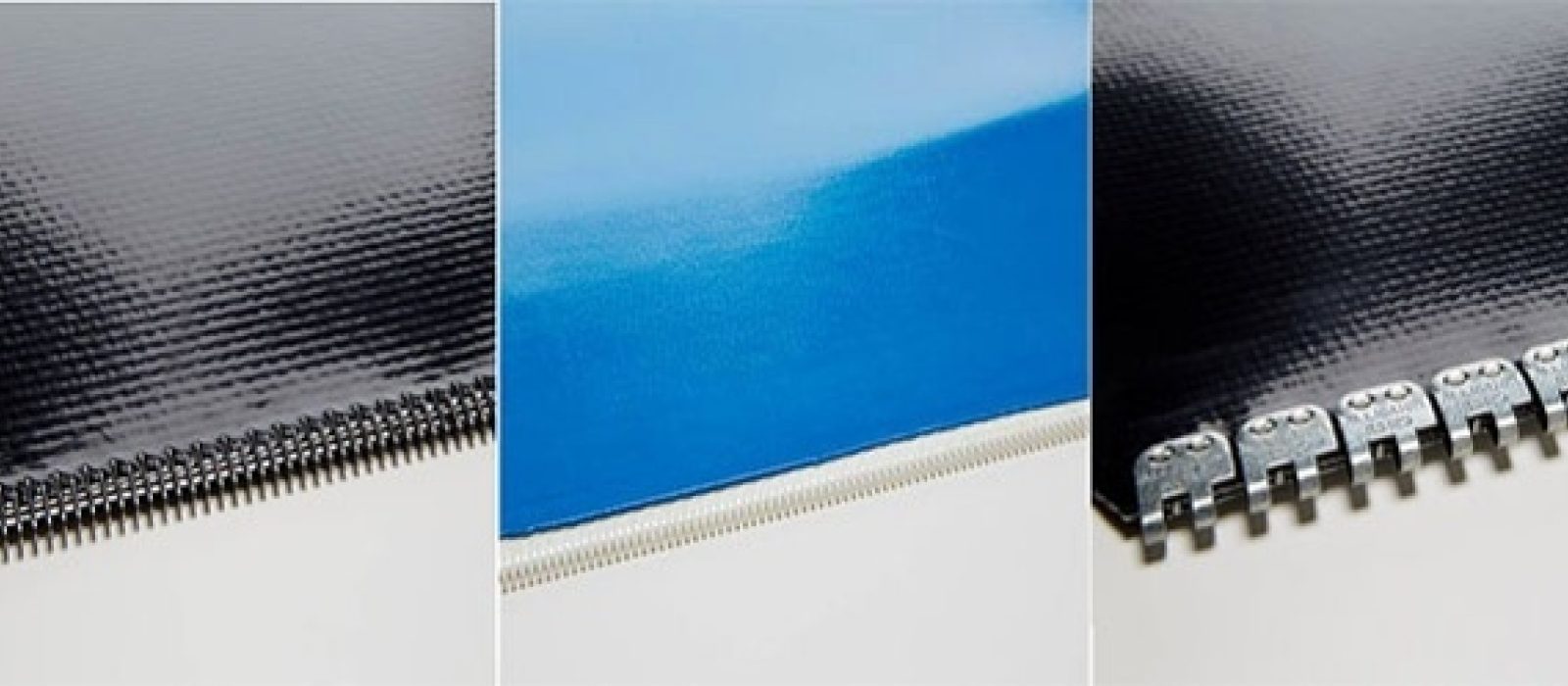 Conveyor belt fasteners are manufactured in two styles—hinged and solid plate. Hinged belt fasteners are applied as individual segments to a belt end and then connected with a hinge pin. Solid plate fasteners span opposing belt ends that have been butted together, forming a tight, sift-free splice.
Solid Plate Fasteners
Solid plate are used where a sift-free splice is required (i.e. bulk conveying applications). The ends of the belt prevent fines from sifting through the spliced area, are considered as a permanent attachment, and are seldom used where the belt or the conveyor must be frequently disassembled. Solid plate fasteners also require larger minimum pulley diameters than hinged fasteners.
Hinged Fasteners
Hinged fasteners can be used on systems employing smaller pulley diameters. This design feature allows for a larger range of applications than is available with corresponding solid plate fasteners. Hinged fastener splices can be separated for belt removal or maintenance by removing the hinge pins. Some hinged fasteners have a sift-preventing component and can be used on belts conveying fines.

The hinge pin should be selected as carefully as the fastener itself. Select a pin of the same material as the fastener. (i.e. a stainless steel pin or a stainless steel fastener.)
Solid wire pins are the easiest to insert and are most often used on non-troughing applications. Stranded cable wire pins are recommended for troughing conveyors given their greater flexibility.
Both solid wire pins and stranded cable pins are offered either with or without an external polymer covering. This polymer "jacket" serves as a lubricant when positioned between the loops of the hinged fasteners. As such, this pin style is less likely to wear or corrode. However, they are not the preferred choice where fine abrasive materials are being conveyed, wherein a solid wire or unjacketed cable pin is a better selection.
Other hinge pin choices include nonmetallic pins for smooth running at lower belt operating tensions as well as notched or corrugated pins which reduce the likelihood of pin migration.
Hinge pin selection is as important as proper hinged fastener selection. Properly selected and installed, they contribute to maximum splice life and performance. As with selecting hinged fasteners, the fastener manufacturers should be consulted for hinge pin recommendations.
Light and Heavy Duty Options
Light-duty conveyor belts generally have a tension rating of 160 PIW or less, while heavy-duty conveyor belts have tension ratings exceeding 160 PIW. Light-duty conveyor belt fasteners include wire hooks, common bar lacing, stapled plate fasteners, plastic hinged plate fasteners, and plastic spiral loop fasteners. Heavy-duty conveyor belt fasteners include bolted and riveted plate fasteners and stapled, bolted, and riveted hinge fasteners. Heavy-duty fasteners are available for operating tensions up to 1500 PIW.
Eliminate Belt Fastener Failures
Causes of failure can be easily and accurately diagnosed by a Sparks belting expert.
It's also fairly simple to analyze your belt to determine if there is a mechanical lacing that will extend your belt life. A minor tweak such as changing the grade of metal, type of pin, or profile of the lace can dramatically increase belt life on the same material.
Belt fasteners are offered in a wide variety and can be carefully selected for your unique application. Additionally, Sparks offers several unique splicing fabrications to further extend the expected product life or minimize its impact on your production.
---
All Blog Posts
Causes of failure can be easily and accurately diagnosed by a Sparks belting expert
Contact Us Today