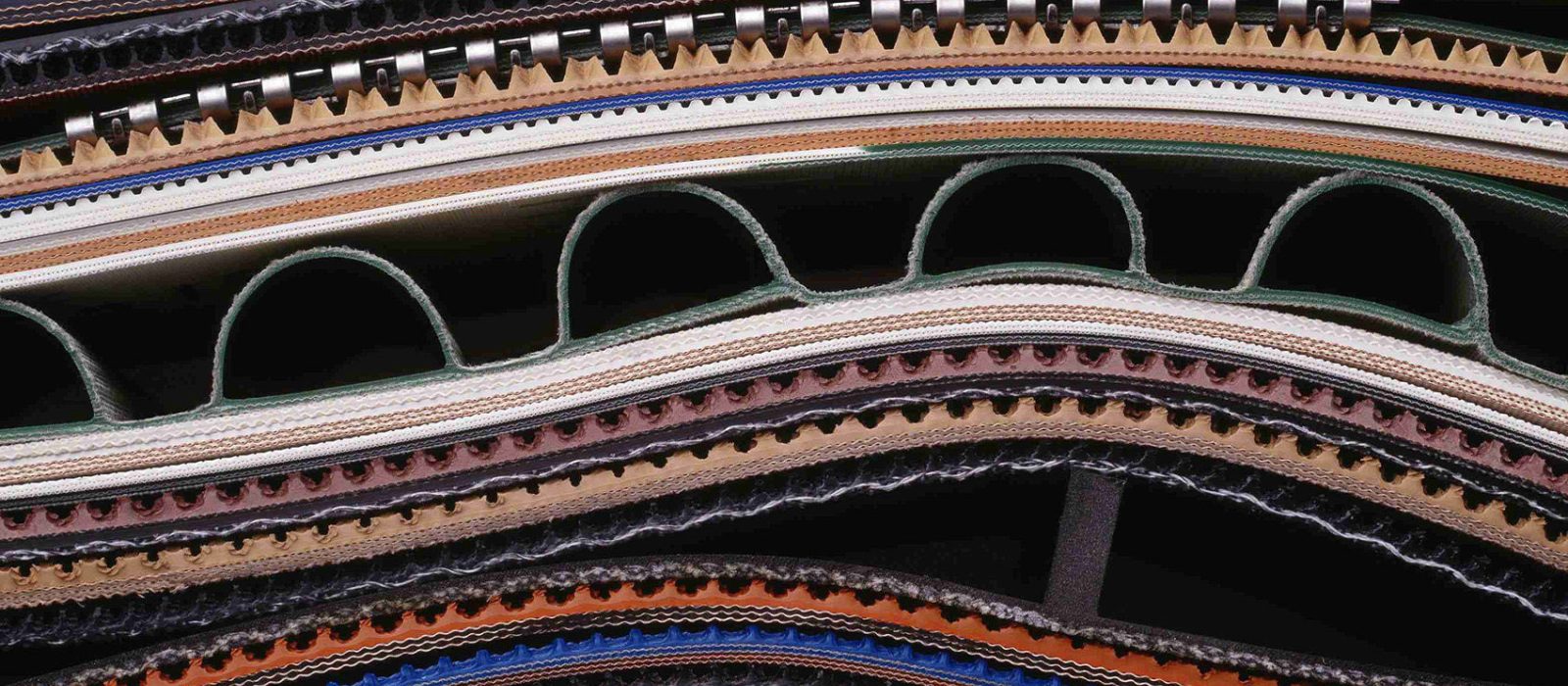 ​Like most products in the marketplace today, the options of conveyor belts that are available seems limitless. Although many applications require specialized belts to run properly on the conveyor, there are five belts that will handle most tasks. This do-it yourself survival guide will point you in the right direction to select the best belt for your conveyor.
Econo Pac 120: Interwove PVC belts have become the workhorse in the belting industry. They are ideal for general purpose carrying of boxes, totes, and other items across horizontal conveyors. However, they are designed for long conveyors with a 5:1 length width ratio (example: 12" wide belt requires 60" long conveyor or more). This belt is ideal because of its competitive cost and versatility. It's heavy duty and holds a mechanical lace extremely well.

Uses: Slider and roller bed conveyors. Ideal for general material handling.
Avoid: All direct food contact and pulleys less than 2" in diameter.
Grip Tex: Although this rough top belt is not the least expensive, it is arguably the most versatile due to its premium Buna-N cover. Rough top belts are ideal for inclines, declines, and applications that need to absorb shock. Grip Tex is non-marking and is soft enough not to damage your product.
Uses: Direct food contact, box folding, bun slicers, oily applications, incline and decline conveyors, tape machines.
Avoid: Small pulleys less than 2", sharp products.
GP 210M: This green 2-ply PVC belt is perfect for general industrial applications with light loads. The monofilament carcass allows this belt to track easily on conveyors that are nightmares for interwoven PVC due to length width ratio issues.
Uses: High speed, anti-static, wide conveyors
Avoid: Heavy loads, oily environments, sharp & abrasive products
WU 210 A/S: The glossy polyurethane cover coupled with the 2-ply monofilament construction makes selecting WU 210 A/S as your food approved belt of choice a slam dunk. This belt works with a 3/8" diameter nosebar, is quiet, features an anti-static additive, is suitable for direct food contact, abrasion resistant, and easy to track!
Uses: Bakeries, chocolate, bread, low temperature, wide conveyors, oily environments
Avoid: heavy loads, UV light, troughing applications
Slip Top: Versatility is the key with the opposing friction and bare surfaces of this belt. The variation of the opposing coefficient of frictions allow for well-needed options to grip (or release) conveyor surfaces and your product load. Slip Top is ideal for accumulation conveyors, troughing conveyors, or heavily loaded horizontal conveyors. The rubber construction allows us to offer a wide variety of hidden and specialty laced solutions.
Uses: General conveying, roller beds, slider beds, accumulation, temperatures up to 250° F.
Avoid: Freezers, shirt/wide conveyors, sharp products
---
All Blog Posts
Contact Sparks today for competitive pricing on our conveyor belts
Contact Us Today