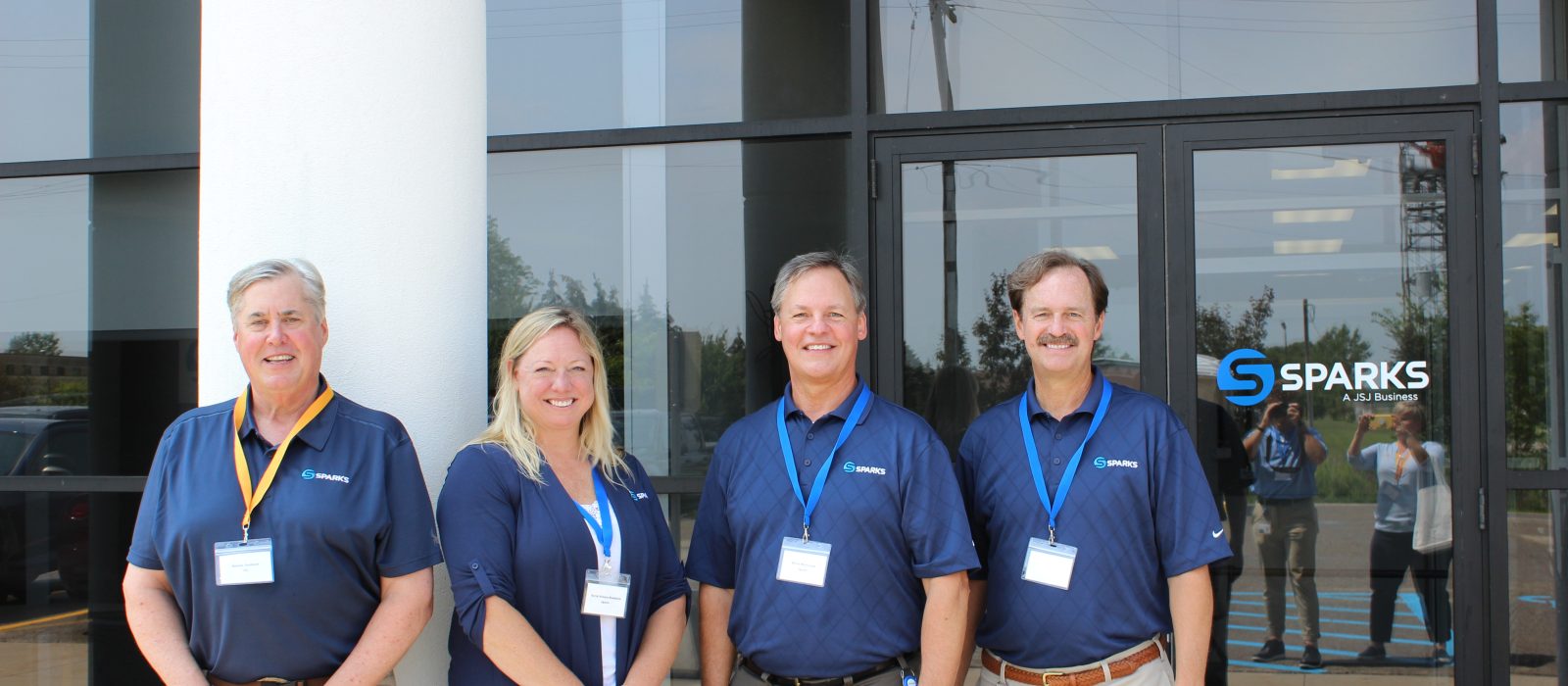 Announcements
Sparks Belting Celebrates 75 Years of Service and Expanded Operations
Conveyer solutions manufacturer relocates to larger plant that will pave the way for increased production during its milestone year
GRAND RAPIDS, Mich. (Aug. 10, 2021) — Sparks Belting Company, an internationally recognized manufacturer, fabricator, and distributor of conveying solutions, is celebrating 75 years of customer-focused quality and service, coinciding with a move to a new corporate office and national manufacturing center.
The company has consolidated its operations from two plants into a 105,000-square-foot national manufacturing plant that will allow the company to increase production and expand its workforce to meet increased customer demand. Production at the new plant, located at 5005 Kraft Avenue SE in Grand Rapids, began in May.
"While many organizations are still feeling the impact of the pandemic on their business, we are fortunate to have been able to bounce back better than ever during this momentous year for our company," said Mitch Mittlestadt, president of Sparks Belting. "We've been able to navigate changing market conditions over many decades by adapting to the needs of our customers – this innovative mindset is what will launch us into our next 75 years."
Sparks has traditionally been known for its highly customized belting solutions. However, the company has invested heavily in its high-volume production capabilities and has become a supplier of choice for large, multinational companies in the logistics and distribution, building products, food processing, and general industrial markets.
"We have reinvented the way we look at client relationships transitioning to a more partner-centric position," Mittlestadt said. "Not only are we a product provider, but we also come alongside our clients with service, technology, and technical application expertise."
The company is rolling out new products and services, investing in key markets throughout the United States and Mexico, and shifting inventory and services to areas of higher customer demand to support the growth of its key customers.
"Sparks Belting truly exemplifies what it means to be a JSJ business," said Nelson Jacobson, CEO of JSJ, Sparks Belting's owner. "For 75 years, Sparks has demonstrated a commitment to excellence, a passion for innovation and client service, and an adherence to the JSJ values: earn trust, learn by doing, work together, and steward our legacy. The fact that the team at Sparks not only weathered the COVID-19 pandemic but continued to drive the business forward and set a standard of excellence for the industry, is a testament to their skill, creativity, and drive."
About Sparks Belting

Sparks Belting is a privately-owned company based in Grand Rapids, Mich., that specializes in conveyor belt and motorized pulley manufacturing, fabrication, and distribution of custom conveying solutions. Established in 1946, Sparks has 12 total locations in the United States and Mexico. Sparks is a portfolio company within JSJ Corporation, a growth firm with global manufacturing, distribution, and service businesses that focus on highly technical skills to deliver engineered solutions.
---
All Blog Posts